Over the Easter weekend 14 representatives ("dudes") from Haringey's Highgate & Horney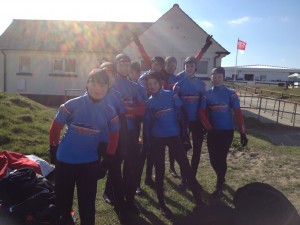 ESU visited the Cornish coast for a long weekend of Surfing.
After a long drive through the Easter getaway traffic on Friday, the Unit arrived in Cornwall at around 9pm, leaving just enough time for dinner before settling down for the night. Accomodation was kindly provided for us at the HQ of 1st Bude Scout Group.
It was an early start on Saturday for the first of our lessons. After the country had ben enveloped in snow and frost for the previous week or so, it was a relief to wake up to bright sunshine and clear skies. Tempratures reached a 'balmy' 8° but the sea felt tropical in our wetsuits!
It was just short drive up the road to Widemouth Bay where we were greeted by big waves ("swell"). As most of the group were total novices ("gr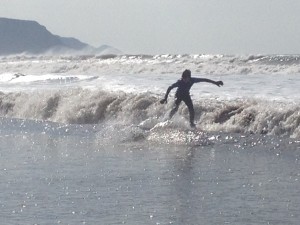 ommets") we started with the basics: catching waves and just lying on the board. Everyone picked this up quickly and we were on to our knees on the boards before lunch.
Despite much falling off ("grubbing"), by the end of day one, all the Explorers had managed to find their feet out on the waves ("rad"). A brilliant result. The leaders ("kooks"): not so much!
Saturday evening gave us a chance to explore Bude town, and of course no trip to the seaside is complete without fish and chips! Then it was back to base to unwind with Monopoly, Jenga and cards.
It was back to Widemouth Bay early on Sunday for our final lesson. First though, a beach based opportunity to invest Jem. The unit's 20th investiture since it's formation in September; the first carried out in wetsuits!
By the end of Sunday, most Explorers were able to stand with relative ease, high-fiving on the move. I even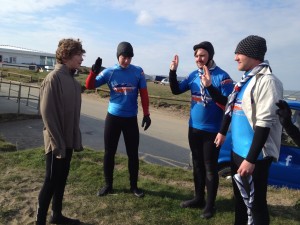 witnessed Toby 'Gangnam Style-ing' while riding the wash! Epic!
It was back into Bude on Sunday afternoon for a round of crazy golf before dinner and an early night ready for the clean up and long drive home on Monday.
Many thanks to all at the 1st Bude for their hospitality over the weekend, and also to Raven Surf School (ravensurf.co.uk) for their excellent tuition.
Sweet, man!